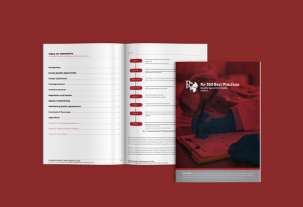 Rx-360 Best Practices Quality Agreement Guide
This Best Practices Quality Agreement Guide is intended to assist both Customers and Suppliers in efficiently managing the initiation, negotiation, implementation, and ongoing maintenance of quality agreements. "Supplier" is used broadly in this document to refer to a company that provides materials, products, or services. Establishing a quality agreement can be time-consuming as negotiations, misunderstandings, and inflexibility frequently cause delays in the process. This guide contains some best practices, sample language, external references and resources, along with solutions to routine issues that come up during the quality agreement process. Perspective from both suppliers and manufacturers presents a balanced view designed to assist both parties in achieving a complete, concise agreement. Flexibility and compromise are needed in order to understand and work together to meet the requirements of both parties.
The sections are present in the process flow (see above) of implementing a Quality Agreement. Throughout this document, Best Practices and Tips are outlined in a red box with appendices offering a set of comprehensive tools to aid in developing a quality agreement program including:
Content Regulatory References
Sample Content Selection Matrix
List of Industry Templates and Guides
The objective of the Supplier Quality Working Group is for this guide to help facilitate a more efficient and effective quality agreement negotiation process. As with all of our other documents we have published, this document will be reviewed and updated based on the most current industry and regulatory practices.